We create apps for kids and custom software solutions
AUGMENTED REALITY
Enhances reality with the addition of graphics, sounds, touch, and even smells
Closer to reality improves or augments the real-world
Quite closer to reality
Juxtaposition of virtual over real
VIRTUAL REALITY
Generates immersive computer graphics
Replaces the real Blocks out the real-world
Removed from reality Simulated virtual environment
CUSTOM APP SOLUTIONS
Let us build you a bespoke Augmented Reality or Virtual Reality app that fits your needs.
Our experts will work one-on-one with you each step of the way

CONCEPT
We'll consult with you to tailor the best solution to meet your needs

DESIGN
We'll help design an engaging VR or mobile AR app with your vision and audience in mind

BUILD
Our developers and experts are at your service. No coding, no hassle, no problem

LAUNCH
We'll make sure your app is properly tested and ready for a successful launch




Enhance your branding & Marketing efforts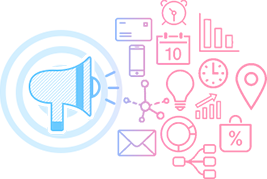 You can now take your marketing campaigns to the next level by creating cool Augmented Reality apps. Get 100% custom branded apps in accordance with your objectives and needs. This allows you to establish a better connection with existing customers and brand.
World Class Solutions at Coast Effective Rates
Get unmatched application development solutions at affordable prices. Our transparent processes allow you to have a complete idea about the progress of your project. By carefully assessing your business needs and target customer requirements, we successfully provide a shape to your vision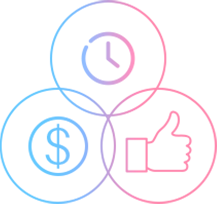 Creating breathe-taking experiences for all devices

Smartphones
With mobile augmented reality, you can use high-end smartphone to augment your perception of the world around you. With Augmented Reality, those still images of a scene captured from the camera of your phone can actually come to life. App helps automatically recognize and annotate objects in the scene.
Tablets
Your tablets come equipped with the camera, scan sensor, and are compatible, with pen input. Moreover, they come with a GPS sensor, compass and transparent OLED screen which are suitable to enable augmented reality.

Television
Your Augmented Reality app allows the audience to interact with a virtual character through a large screened TV. It comprises of a motion sensing input device, processor and output device.

Virtual Reality Headsets
There are two main types of VR headsets currently available to the consumer market. High-end systems involve a headset that plugs into a high-performance PC for content, while less complex devices are designed to hold the user's smartphone, which displays VR content.

Ready to get started?
Request a quote for tailored solution
© 2020 ООО «AMAYA SOFT». All rights reserved